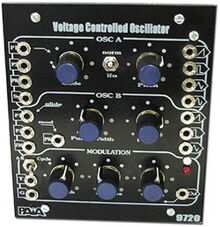 A modular synthesizer line marketed by PAiA, and first introduced in the mid-1990s. They are compatible with the Frac format. The line includes VCOs, VCFs, VCAs, envelope generators, mixers, a ring modulator, a sample and hold, and accessories such as control voltage sources and an envelope follower. The designs are more full-featured than typical PAiA products, and are noted for cramming a lot of functionality into the small Frac modules. The 9700 series marks something of a return to first principles for PAiA, which carried an extensive product line of modular synth equipment in the 1970s but dropped them as modulars fell out of popularity after 1980.
The modules are available in kit form only. Rack packaging is available from PAiA. Their rack power supplies are unregulated 18V supplies, and by default the modules are set up to use this power. However, the modules' onboard regulator can be bypassed with a simple modification, to allow the modules to use Frac-standard 15V power.
Community content is available under
CC-BY-SA
unless otherwise noted.