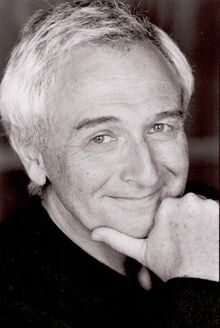 For the past several decades, Andrew Belling has provided songs and underscore for many television shows and features. He's worked with major stars like Frank Sinatra, Ann Marget, Burt Reynolds, Dinah Shore, Susan Anton, Lucie Arnaz, Martha Reeves, Wayland Flowers and Madam, and has played keyboards on albums with The Kingston Trio, Ricky Nelson, The Eagles and has released albums on Casablanca, Warner Bros., 20th Century Fox and Columbia Records.
In 1977 20th Century Fox released "Wizards", an animated film by Ralph Bakshi – for which Andrew provided all the music. The film has since become a cult classic and both the film and the score have amassed a large fan base.  Upon the 40th anniversary of the release, a record label in Portland released the score on vinyl and celebrated the occasion with a film screening to a sold-out house at the Hollywood Theatre.
Andrew has also conducted the London Symphony, Royal Philharmonic, Jerusalem and Seattle Symphonies, and members of the Los Angeles Philharmonic in his scores. He's co-produced and co-directed a cable classic television series "Crisis Counselor"; music directed Disney International Children's television series "Sing Me A Story"; together with DJ Casey Alva, arranged, conducted and produced the music for The Tiki Room in Tokyo Disneyland and is an Honorary Imagineer.
In addition, he has produced and recorded many audio books for the children, for Childs Play, England. His proudest work in this genre being an audiobook called "The Musical Life of Gustav Mole"-narrated by Patrick MacNee. He subsequently produced and recorded another book which was narrated by Diana Rigg, so he has truly worked with 2 of the original Avengers.
As a writer and singer, he released 2 albums of songs that he wrote for children's books and Disney, Imagine That, Just Kidding and Sing Along with Me!.  He has enjoyed a long working history with the Sherman Brothers, in which he conceived and is developing a new Sherman Brothers musical bound for Broadway named "Merry-Go-Round The Musical" as well as recently conducting and playing 185 performances in 40 cities over 9 months as Wilbur Hatch, in the 2014/15 National Tour of the musical "I Love Lucy, Live On Stage".
With E-MU Proteus/2 Orchestral sampler rack becoming popular, a lot of music composers began to use this rack and use every patch in their music for a lot of children's programming through the 1990's to the early 2000's.
05 Metal Harp (Used in Very Merry Christmas Songs)
16 Living Calliope
23 Flute-Piano Duo (Just the Flute Sounds) (Used in Very Merry Christmas Songs)
44 Pizzagogo
62 Oriental Bells
67 Choir (Used in Very Merry Christmas Songs)
ROM-1 A: 3 BRASS 3 (Used in Very Merry Christmas Songs)
ROM-1 A: 16 BASS 2
12 Deep Analog Strngs (Used in Very Merry Christmas Songs & Fun with Music)
34 Acoustic Guitr Box
42 Xylophone (Used in Very Merry Christmas Songs)
56 Bell Tree
84 Clock Factory
41 Sweet Vibes (Used in Very Merry Christmas Songs)
A12 JazzGuitar (Used in I Love to Laugh)
A71 Bells 1 (Used in Very Merry Christmas Songs)
001 Hall Strings
017 Verb Flute (Used in Topsy Turvy)
031 Wind Chimes
E-MU PROTEUS/2 (Orchestral)

[

edit

|

edit source

]
001 Solo Viola
002 Solo Violin
009 Marcato 1
010 Marcato 2
014 Pizz Celli
015 Pizz Violas
016 Pizz Violins
017 Pizzicato 1
018 Pizzicato 2
024 Flute
025 Piccolo
026 Oboe
027 English Horn
028 Clarinet
029 Bass Clarinet
030 Bassoon
031 Contrbassoon
036 FrenchHorn 1
037 FrenchHorn 2
039 Trumpet 1
040 Trumpet 2
042 Harmon Mute
043 Trombone 1
044 Trombone 2
045 Tuba
050 Timpani
051 Gong/Cymbal
052 Bass/Snare
054 Xylophone
055 Glockenspiel
057 TubularBells
058 Percussion 1
059 Percussion 2
060 Harp
PRESET B: 119 Harmonica
PRESET C: 049 Harp On It
General MIDI bank: 106 Banjo
01 Acoustic Piano
002 A.Piano 4
PRESET A. PATCHES: 51 Woody Bass 1
General Midi: 22 Accordian Fr.
General Midi: 48 Timpani
Factory A: P5  Slap Bass 3
Roland (Sound Canvas) SC-50

[

edit

|

edit source

]
This list is incomplete, you can help by expanding it. Every patch from these sources are both correct or random. Most of these sources to every keyboard, sampler and synthesizer used by Andrew have not been founded yet.
http://www.morbroproductions.com
https://docs.google.com/spreadsheets/d/19vfH6X3uloT31F0HsbB9Yq8Pfh3EGM1pf46Xyz6amRY/edit?usp=sharing
Community content is available under
CC-BY-SA
unless otherwise noted.