Jurassic World: Dominion Dominates Fandom Wikis - The Loop
Play Sound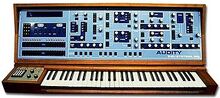 A prototype built by E-mu Systems, for a microprocessor-controlled, polyphonic analog synth that never went into production. The project was an offshoot of an order for a set of custom voice cards, from Tangerine Dream's Peter Baumann, in 1978. Baumann intended to build a polyphonic synth of his own design, and asked E-mu to design and build the voice circuitry. E-mu built the boards and delivered them to Baumann in 1979. (It is unclear if Baumann ever finished the synth he intended to build, or what the cards were ultimately used for.)
From there, E-mu decided that they could design their own polyphonic synth around the voice cards they had designed. The project grew as more features were added, and the result was the Audity. It would have been a very capable but also very expensive synth, with up to 16 voices, a variety of modulation sources, computer control over everything, and dedicated control for most major functions. A keyboard model that E-mu sold with its modular synths was incorporated.
The end result wound up being a very capable, but also extremely large and expensive, synth. E-mu figured the list price would be in the $40,000 - 70,000 range, depending on the configuration ordered. They were aware that this would essentially limit sales to institutional customers, but they figured that they would not need to sell many units to make money, and a less expensive follow-on could be designed later. In 1980, E-mu took the incomplete Audity prototype to a trade show. Unfortunately, they received no orders and no leads; the synth was competing against far less expensive analog polyphonic models from Sequential Circuits and Oberheim, among others. A few weeks after the show, Sequential notified E-mu that it would cease paying royalties on E-mu's scanning keyboard patent which E-mu had licensed to them. That instantly eliminated a major source of revenue and put E-mu in a financial bind.
At this point, E-mu principals Dave Rossum and Scott Wedge had an idea for something completely different, a digital synthesizer inspired by having seen the Fairlight CMI at the same trade show where the Audity was unsuccessfully demonstrated. They immediately cancelled further Audity development to put the money into the new concept, which became the very successful Emulator sampler. E-mu never re-visited the Audity concept and never made another attempt at a polyphonic analog synth.
Many years later, E-mu acknowledged the Audity by re-using the name for the Audity 2000, one of the Proteus series of sample playback synths. The console from the original Audity prototype, which was never actually finished, is now the property of the CANTOS Music Foundation in Calgary. Because the separate works chassis have long since been scrapped, the console is no longer functional.