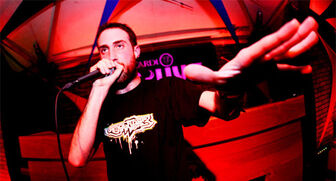 Beatboxing is a form of vocal percussion primarily involving the art of producing drum beats, rhythm, and musical sounds using one's mouth, lips, tongue, and voice. It may also involve singing, vocal imitation of turntablism, and the simulation of horns, strings, and other musical instruments. Beatboxing today is connected with hip-hop culture, being one of "the elements", although it is not limited to hip-hop music. The term "beatboxing" can be used to refer to vocal percussion in general.
As it relates to electronic music, beatboxers simulating all genres of electronic music have risen to fame internationally as well, such as the House music stylings of Roxorloops (Belgium). Beardyman's (UK) unique approach involves live recording and looping his recorded voice live to sequentially build full-range, club-worthy songs across various electronic music genres.
Community content is available under
CC-BY-SA
unless otherwise noted.