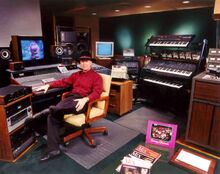 Bob Singleton is an experienced, classically trained composer and producer with deep roots in rock, jazz and ethnic music. He is a Grammy-nominated and multi-platinum album award-winning producer, composer and arranger. His music work includes over 70 PBS episodes, over 30 albums, an NBC network special, and a sold-out Radio City Music Hall run. He has also worked as a composer and music producer for home videos and award-winning commercial & industrial projects (Gold Cindy Award), and worked on award winning theater and musical productions. Bob has been nominated for 4 Dove awards in the Children's Musical Album of the Year category.
He has produced music and soundtracks for hundreds of programs. These programs have appeared internationally and nationally on NBC, PBS, independent TV stations, The Disney Channel, educational distribution and home video retail sale.
His scoring experience ranges from synthesizers to full orchestra, hip-hop, R&B, rock, symphonic, pop and children's music. He has written hundreds of songs, commercials and scores for a variety of broadcast and industrial clients. Bob has also created and produced animated and live action home videos as well as several interactive computer media titles.
Bob started his music career in his home state of California, where he worked as a keyboard player making song demos for a pop song publisher. He traveled to Texas for college. After graduating with honors in Music Composition from the University of North Texas' School of Music, he went to work as a recording engineer. His first work was in Dallas, where his ability to read scores in jingle sessions made him one of the top engineers in a busy jingle industry town.
He went on to engineer top acts like Willy Nelson, The Commodores, Amy Grant, and many others in studio and for live TV and radio broadcasts. He traveled and worked in Dallas, LA, Nashville, Toronto and many other locations.
Bob carried on parallel careers as both a composer and a freelance engineer for many years, until he set up his own production company in the 80's. He distinguished himself by being a leader in the coordinated use of computer compositional tools and audio-video interlock. Many of his clients were ad agencies whose commercials, needed tightly synchronized scores in a wide variety of musical styles, and major political candidates (like Bill Clements, Gov. of Texas) wanting persuasive musical signatures. Bob's client list has included American Airlines, Southwest Airlines, The US Air Force, JC Penney, Gaylord Entertainment, Lyrick Studios, Sony Entertainment, Marvel Animation, and many more.
In the 90's, Bob became one of the top creators of music for kids in the US. He was a music director on Barney® and Friends for 10 years, and his music for Barney is still heard in over 100 countries, worldwide. He produced over 30 albums for children, gathering a Grammy nomination, 4 Dove nominations, a triple platinum album and a platinum album. While working on the Barney® TV series, Bob started working on computer-based media projects. He collaborated with Activision on a PlayStation game, and developed sound tracks for several interactive CD-ROM projects.
He continued with commercial and industrial projects too; picking up a Gold Cindy Award for his work with JC Penney and Henry Grethel Clothing, created music for The Dallas Mavericks and Dallas Sidekicks, and produced for major industrial clients like Interstate Battery Systems of America and World Vision.
When Bob was hired as the new music director for future Barney projects, he begin building his own music style, collecting hardware and software like keyboards, synthesizers, sampler racks, drum machines and everything in between. On this list are programs used by Bob from products like Yamaha, Roland, E-MU and more.
BANK A: 09 LoTine81Z
BANK A: 29 RichHarpsi
BANK A: 31 BriteCelst
BANK B: 01 Trumpet81Z (SFX) (used in: Are We There Yet? as Barney's Car Horn)
BANK B: 12 Pan Floot (used in: Barney goes to School)
BANK B: 16 Harmonica
BANK B: 24 Harp (used in: Barney goes to School)
BANK C: 07 Old Banjo
BANK C: 09 Elecbass 1
BANK C: 15 LatelyBass
BANK C: 26 Java Jive
BANK C: 27 Xylophone
BANK D: 20 Whistling (used in: Barney in Outer Space)
EMU Emax I and II (both Keyboard and rack modules with Floppy Disks) 

[

edit

|

edit source

]
BRASS: X231 New Pop Brass (E-MU Emax)
BRASS: X037 Big Horns (E-MU Emax)
ETHNIC, STRINGED: X281 Chinese Koto (E-MU Emax)
KEY, ACOUSTIC: X031 Harpsichord (E-MU Emax)
WINDS, ETHNIC: X117 South American Pipes (E-MU Emax)
WINDS, ETHNIC: X155 E3 Shakuhachis (E-MU Emax) (used in for the song: Animals in Motion)
WOODWINDS: X239 Bari/tenor Sax (E-MU Emax)
11 Fantasia (used in: Waiting for Santa)
16 Living Calliope
32 Gamelan Bell
58 Rock Organ
PX Professional Expander: 13 Digital Electric Piano
C4 STEEL DRUM BAND
D4 CELESTE
E3 CALLIOPE (used for the song: Hurry, Hurry Drive the Fire Truck)
E6 HORN SECTION
25 Donald Pluck (used in: Barney goes to School & Barney in Concert)
02 Classic Grand
13 Synth Tines
18 Honky Tonk
E-MU PROTEUS/2 (Orchestral)

[

edit

|

edit source

]
009 Marcato 1
017 Pizzicato 1
024 Flute
025 Piccolo
026 Oboe
028 Clarinet
029 BassClarinet
030 Bassoon
031 Contrbassoon
036 FrenchHorn 1 (used in: Barney's Magical Musical Adventure)
042 Harmon Mute
043 Trombone 1
045 Tuba
050 Timpani
051 Gong-Cymbal
053 Temple Block
054 Xylophone
055 Glockenspiel
056 Celesta
057 TubularBells
058 Percussion 1
060 Harp
137 Jazz Bass
04 Honky-tonk (used in the song "Down on Grandpa's Farm" in Season Two's "Grandparents are Grand")
05 E. Piano 1
09 Celesta
12 Vibraphone
13 Marimba
14 Xylophone
19 Organ 3
22 Accordion Fr.
23 Harmonica
36 Fretless Bs.
61 French Horn
62 Brass 1
68 Baritone Sax
77 Bottle Blow
92 Space Voice (used in: Barney in Outer Space)
106 Banjo
109 Kalimba
110 Bag Pipe
111 Fiddle
121-128 SFX
Drum Set Table: 1 Standard Set
Drum Set Table: 17 Power Set
Drum Set Table: 41 Brush Set
Drum Set Table: 49 Orchestra Set
PR-A: 17 Clav 1
PR-A: 51 Woody Bass 1
PR-A: 59 Pick Bass
PR-B: 01 Pizzicato (used in: Imagination Island)
PR-B: 03 Harp
PR-B: 08 Orch. Strings
PR-B: 28 Harmon Mute2
PR-B: 49 Steel Drum
BANK1 Piano: 5 E. Piano 1
BANK2 Chromatic Percussion: 11 Music Box
BANK2 Chromatic Percussion: 14 Xylophone
Roland SR-JV80-02 Orchestral (expansion board for the JV synths)

[

edit

|

edit source

]
074 Pizzicato 1
185 Classical Gt
186 Harp 1
196 Harpsicord1
209 Xylophone 2
Larry Haron, Bob's assistant music director has his own equipment that he uses in Bob's music. (Only for the musical numbers.) These are the only samples from these sources he uses.
09 Drums#1 (Whip crack)
26 A.Bass
15 Vibes
This list is incomplete, you can help by expanding it. Every sample found from these sources are both correct or random. Most of these sources to every keyboard sampler rack and synthesizer used by Bob has not been found yet.
https://singletonproductions.com/
https://docs.google.com/spreadsheets/d/19vfH6X3uloT31F0HsbB9Yq8Pfh3EGM1pf46Xyz6amRY/edit?usp=sharing
Community content is available under
CC-BY-SA
unless otherwise noted.