Carmine Bonanno is an electrical engineer and audio pioneer who founded Octave-Plateau Electronics, Inc. which later became Voyetra Technologies Inc., Voyetra Turtle Beach, Inc. and is currently Turtle Beach Corporation. Carmine graduated from New York University with a Bachelor of Arts degree in Physics and graduated cum laude from the Polytechnic Institute of New York with Bachelor of Science and Master of Science degrees in Electrical Engineering.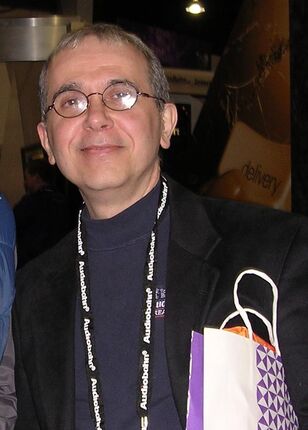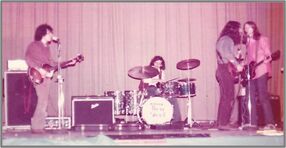 Carmine was born in Toronto, Canada and grew up in Queens, NY. While in Junior High School, he learned to play guitar and founded a rock band that performed in the NY metropolitan area from 1966 to 1975. During that time, he built a variety of electronic devices for his band, including guitar amplifiers, effects boxes, synthesizers, PA systems and a multitrack recording studio.
While performing in Greenwich Village in the late 1960's, Carmine heard the electronic music duo "Silver Apples" and was inspired to build electronic music devices that he used in performances with his band. After hearing the Moog synthesizer on Wendy Carlos' Switched on Bach album, Carmine built a sophisticated modular synthesizer whose circuit design served as the basis for the Cat Synthesizer.
Octave Electronics and the Cat Synthesizer

[

edit

|

edit source

]
While in college, Carmine worked part-time as an electronics technician for the Syn-Cordion Corporation, an importer of electronic musical instruments in Queens, NY. After graduating in 1975, Carmine built a prototype of the Cat Synthesizer and presented it to the owners of Syn-Cordion as a new product that could be sold to music stores who were customers of Syn-Cordion. Together, they formed a new company, Octave Electronics, Inc., to manufacture and market the Cat synthesizer.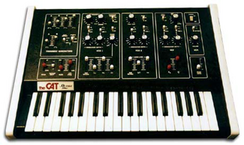 Octave debuted the Cat at the 1976 NAMM show and shipments began later that year. In 1978, Carmine replaced the original Cat with a more feature rich version called the Cat SRM and in 1980 he designed a new version with a digital keyboard, called the Cat SRM II. In 1978, Carmine began designing the Voyetra 8 polyphonic synthesizer which was based on the Cat SRM voice architecture. However, this project was put on hold while the company transitioned to become Octave-Plateau Electronics.
The original Cat synthesizer was priced at $599 when most competing synthesizers were selling for more than $1500. Because it offered similar features at a significantly lower price, the Cat quickly became popular with musicians who wanted a performance synthesizer but could not afford the higher priced alternatives.
The original Cat incorporated an analog duophonic keyboard design commonly used on synthesizers at the time. In an apparent attempt to slow down sales of the Cat, which were adversely affecting sales of their Odyssey synthesizer, ARP sued Octave claiming that the Cat's duophonic keyboard infringed an ARP patent. ARP subsequently dropped the lawsuit when presented with evidence that the Cat duophonic keyboard was based on prior art that predated the ARP patent. Thereafter, several ARP employees falsely spread rumors that ARP had sued Octave for copying the Odyssey. Ironically, ARP eventually went bankrupt while Octave Electronics evolved through the years and continues to thrive as a successful company under the name Turtle Beach Corporation.
Octave-Plateau Electronics and the Voyetra 8 Synthesizer

[

edit

|

edit source

]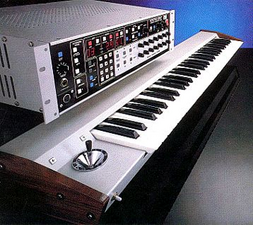 In 1979, Carmine's Syn-Cordion partners grew tired of the highly competitive synthesizer business and wanted to return to their roots of importing musical instruments. To avoid shutting down the company, Carmine negotiated a buy-out of their shares by Plateau Electronics, a Manhattan-based synthesizer repair facility that catered to professional musicians performing in the NYC area. Octave Electronics was renamed Octave-Plateau Electronics and the manufacturing operations moved to Plateau's facility in Manhattan. To help run the company, Carmine recruited his close friend, Fred Romano, as executive vice president. With Fred in charge of administrative operations, Carmine was free to resume the Voyetra 8 and other projects.
In 1980, Carmine hired Bruce Frazer, a brilliant software engineer who relocated from California to NY to assist him with the Voyetra 8 project. Carmine designed the hardware aspects of the Voyetra 8, including the synthesis and control circuitry, system architecture, feature set, chassis, etc., while Bruce wrote the firmware to control the complex synthesizer system. Under a grueling schedule that often required working around the clock for months on end, Carmine and Bruce completed the Voyetra 8 in less than one year. The instrument was introduced at the 1981 NAMM convention and shipments began in 1982. Carmine and Bruce continued to improve the Voyetra Eight and released several upgrades in subsequent years.
The Voyetra 8 was a groundbreaking instrument that pioneered many of the features found in synthesizers that followed, including its rack mount form factor and remote keyboard, now commonly done with MIDI keyboard controllers. Its complex modulation system and rich orchestral sound appealed to prominent rock bands in the 1980s and it can be heard on many popular songs of the era. To this day, the Voyetra 8 is still sought after by musicians for its unique sound, with units often selling for more than $10,000 on internet auction sites.
Voyetra One and Music Software

[

edit

|

edit source

]
Although the Voyetra 8 rack-mount chassis was compact and rugged, its front panel was too small to display all the controls required to program its complex voice architecture. To address this, Carmine designed the Voyetra One—a monophonic rack-mount synthesizer with an array of panel controls specifically designed for programming the Voyetra 8. After the IBM PC was announced, it was obvious that a personal computer was better suited to program the Voyetra 8 than a dedicated and expensive hardware device like the Voyetra One. Consequently, the Voyetra One project was discontinued and instead, Bruce created a Voyetra 8 voice editor program for the IBM Personal Computer.
Once the Voyetra 8 could be connected to a personal computer, it became possible to record, edit and play back the MIDI notes, controllers, and other real time data, allowing a multitrack song to be composed and saved to disk. To pursue this, Carmine put Bruce in charge of software development, hired two more software engineers (Jim Wright and Hugh Steele) and the directed the team to create Sequencer Plus, one of the first MIDI sequencers for professional musicians.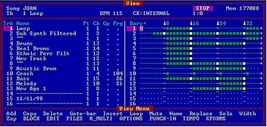 Sequencer Plus was launched in 1984 and quickly became popular with musicians composing for film, commercials, and pop music. Over the years, it was released in several versions to address different price points and more than one million copies were eventually sold worldwide.
Because Sequencer Plus was written for the DOS operating system and used a text-based user interface, it was discontinued in the early 1990's and replaced by a Windows version under the name Digital Orchestrator Plus.
After Yamaha introduced the DX-7 FM Synthesizer in 1983, musicians were drawn to the unique new sound of digital synthesis, negatively impacting sales of the Voyetra 8 and analog synthesizers from other manufacturers. In response to this challenge, Carmine designed a revolutionary MIDI guitar controller which incorporated a fret-scanning system to control MIDI synthesizers without the inherent delay of pitch-to-voltage converters commonly used in other instruments.
Carmine demonstrated a working prototype of his MIDI guitar at the Octave-Plateau booth at the 1985 NAMM show. Unfortunately, diminishing Voyetra 8 sales had depleted so much of the company's finances that it could not afford to manufacture the guitar. After trying unsuccessfully to license the MIDI guitar design to other manufacturers, the project was abandoned, and the instrument was never produced.
Voyetra Technologies and Music Software

[

edit

|

edit source

]
By 1986, the analog synthesizer market was nearly decimated by the new breed of digital synthesizers and Octave-Plateau was in dire financial condition. Sales of the Voyetra 8 had all but dried up and the MIDI guitar had been shelved for lack of funding. As a result, Carmine and Fred decided to shut down the company's hardware manufacturing, downsized its staff, changed the company name to Voyetra Technologies, Inc and refocused its business model to selling MIDI interfaces, Sequencer Plus and other music software.
In 1989, Creative Labs launched their Sound Blaster PC sound card and Carmine saw an opportunity to license music software to sound card and computer manufacturers. To execute this plan, Bruce and a team of software engineers created a suite of software applications for controlling the sound functions on a personal computer, thereby enhancing the value of the sound hardware.

AudioStation, the core program in the suite, was designed to play digital audio files, MIDI and CD tracks, while other programs in the suite allowed editing digital audio, recording voice, editing MIDI tracks, and more. From 1989 to 1995, Voyetra Technologies became the world's leading provider of audio and music software for personal computers and sound cards, licensing music software to more than 120 manufacturers. In the early 1990s, Voyetra Technologies expanded its software business by developing a full line of retail software for teaching and creating music.
Turtle Beach Acquisition and PC Sound Cards

[

edit

|

edit source

]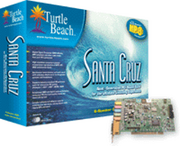 By the mid-1990's, the PC business was becoming extremely competitive and manufacturers sought to cut costs. Carmine realized that the company's software licensing business would eventually be impacted and sought to transition into a different but related product line.
Turtle Beach Systems, a licensee of Voyetra music software and subsidiary of semiconductor manufacturer Integrated Circuit Systems (ICS), was a prominent name in high-end sound cards but its operating losses were becoming a drag on ICS' balance sheet. Seeing an opportunity to unload Turtle Beach from ICS, Carmine negotiated a buy-out of the Turtle Beach assets with the intent of selling Turtle Beach branded sound cards to the same computer manufacturers who were licensing Voyetra music software, as well as creating a new line of retail sound cards bundled with Voyetra software.
After the Turtle Beach acquisition was completed in late 1996, Voyetra Technologies changed its name to Voyetra Turtle Beach, Inc. and Carmine designed a line of sound cards that were sold under the Turtle Beach brand to computer manufacturers and retailers. The acquisition of Turtle Beach proved to be wildly successful and Voyetra Turtle Beach sold millions of sound cards.
AudioTron Network Audio Player

[

edit

|

edit source

]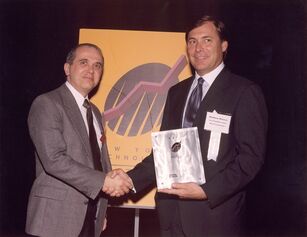 Under Carmine's leadership, Voyetra Turtle Beach received a Deloitte & Touche Fast 50 award in 2000 as recognition for being one of the fastest growing companies in the NY metropolitan area. In the following years, PC manufacturers began to integrate sound onto the motherboard in lieu of using sound cards. Realizing early on that this trend was inevitable and that the company's main revenue stream would again be impacted, Carmine sought a way to capitalize on the growing MP3 music market being fueled by Napster and portable MP3 players.
In 1999, Carmine hired Howard Brown, an audio hardware engineer formerly with Kurzweil synthesizers and Compaq Computer, to help him create a hardware product for the MP3 market. Together, they created a revolutionary network audio player called AudioTron. With a form factor conforming to home theater audio components, AudioTron allowed Internet radio stations and digital music to be played in any part of the home by scanning PC hard drives on a home network and creating a database of music files that could be easily accessed from Audiotron's front panel.

Unfortunately, AudioTron was a groundbreaking device that was ahead of its time. While popular with technically-savvy customers, the complexity of setting up a network audio device and the difficulty of explaining the virtues of having a song library easily accessible in one place, made it challenging to sell AudioTron to the average consumer. Attempts were made to license the design to other companies, but many decided instead to make their own network audio player using reference designs provided by semiconductor manufacturers. Eventually, AudioTron became too much of a drain on the company's finances and was discontinued in 2004.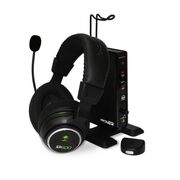 By the mid-2000's, with the sound card business fading and AudioTron discontinued, Carmine was again looking for a new business opportunity for the company. After designing a line of USB audio interfaces and PC headsets which were moderately successful, in 2007 he designed an XBOX headset called the X1, which integrated chat and game audio and was remarkably popular with gamers.
Over the next few years, Carmine followed the X1 with a vast product line of headsets for Xbox, PS3 and PC featuring wireless audio, Dolby surround sound, digital signal processing, and other unique innovations. These gaming headsets were sold in every major retailer and many were promoted with interactive kiosks that allowed customers to try the headsets before buying. The gaming headset line eventually became so popular that Voyetra Turtle Beach became the world's leading manufacturer of gaming headsets.
Carmine's gaming headset innovations include programmable headsets with audio presets, dual-radio headsets for connecting to mobile phones while playing a game, chat boost for hearing the voices of other players over the game sound, mic monitoring so players can hear their own voice while chatting during a game, voice prompts to announce headphone status, and more.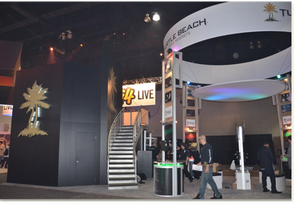 By 2010, Voyetra Turtle Beach's rapid growth made it challenging for Carmine and Fred to manage the day to day operations while still maintaining the fast pace of product innovation required to stay ahead of the competition. To help transition the entrepreneurial team into a more formal framework for accelerated growth, they partnered with the Stripes Group, a private equity firm based in NYC. Stripes helped build a management team and financial infrastructure that allowed the company to evolve into a larger enterprise.
In late 2012, with new management in place and his successful headphone designs firmly entrenched in the marketplace, Carmine was finally able to retire after leading the company for nearly 40 years. In 2014, Stripes changed the name to Turtle Beach Corporation and transitioned to a public company which now trades on the NASDAQ as HEAR. Turtle Beach Corporation continues to sell a wide variety of gaming headsets, many of which are based on Carmine's original designs and patents.
Patents by Carmine Bonanno

[

edit

|

edit source

]
4,468,999 Programmable Synthesizer (Voyetra Eight Patent)
4,580,479 Guitar Controller
4,630,520 Guitar Controller for a Music Synthesizer
4,702,141 Guitar Controller for a Music Synthesizer
4,730,530 Guitar Controller Pickup
D293,589 Guitar Controller for Music Synthesizer
8,498,426 Headphone System for Computer Gaming
10,695,668B2 Headphone System for Computer Gaming
8,879,751 Gaming Headset with Programmable Audio Paths
9,380,373B2 Gaming Headset with Programmable Audio Paths
2018/0302712A1 Dual-radio gaming headset
10,653,950B2 Independent game and chat volume control
D556,683S1 Audio/video adaptor
10,756,691 Automatic volume control for combined game and chat audio
Products designed by Carmine Bonanno

[

edit

|

edit source

]
Electronic Music Synthesizers and Related
1976:     Cat & Kitten synthesizers
1978:     Cat SRM synthesizer
1979:     Catstick synthesizer controller
1980:     Cat SRM II synthesizer
1981:     Voyetra Eight Polyphonic Synthesizer and VPK-5 keyboard
1982:     Touch bass MIDI synthesizer controller
1985:     MIDI Guitar synthesizer controller
1986:     OP-4000/4001 MIDI interfaces
1989:     V-22/V24/V-24S MIDI interfaces

Sound Cards and Audio Hardware (1997 – 2005)
Daytona sound card
Montego Series sound cards
Montego DDL sound card
Santa Cruz DSP-powered sound card
Catalina sound card
Malibu sound card
Riviera sound card
AudioTron Network Audio Player
Audio Advantage USB Interfaces (Micro, Amigo, Elite)
Ear Force Gaming Headsets (2007 – 2012)
X1, X11, X12, X13 – First XBOX gaming headset to integrate chat and game sound
X2 – First wireless XBOX gaming headset
X3, X31, X32 – First RF wireless XBOX gaming headset
X4, X41, X42 – First Dolby Surround Sound wireless XBOX gaming headset
PX5, PX51, XP500, XP510 – First Programmable wireless gaming headsets
P11, P21, PX11, PX21, PX22, PX31 – Playstation headsets
XP7 – Multi-platform Programmable headset for gaming tournaments
TM1 – Tournament Gaming mixer
DSS, DSS2 - Dolby Processors for gaming headsets
Community content is available under
CC-BY-SA
unless otherwise noted.