A tendency of some synth circuits to couple the control voltage input through to an audio output. This happens as a consequence of some types of designs. For example, in the transistor ladder VCF circuit, it is necessary that the cutoff frequency control voltage "ride through" the circuit superimposed on the audio signal; this is what produces the filter's frequency response to the control voltage. However, the control voltage must then be eliminated from the output. It is difficult for the output circuitry to distinguish between the audio signal and the control voltage at this point, and designers sometimes accept some feedthrough in order to avoid compromising the bass response of the filter.
Control voltage feedthrough is most difficult for the circuit to prevent when the control voltage input changes abruptly. Feedthrough at this point produces thumps, pops, or clicks in the output, which is the most common symptom.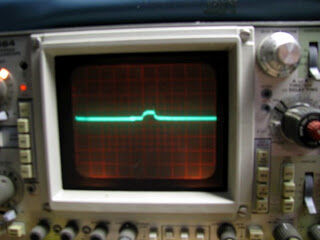 VCA control voltage feedthrough, during calibration of a Roland Juno-106.
Community content is available under
CC-BY-SA
unless otherwise noted.