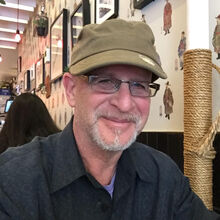 David Wolf started his career in the audio and music business as a drummer percussionist. He eventually studied film scoring and entered the music production field in the 1980's, with the formation of Crywolf Productions, Inc. a music and audio production company.
Since 1981, Wolf composed and produced music and audio content for a diversified base of corporate and advertising clients such as Texaco, Embassy Suites, Miller Brewing, P&G, Southwest Airlines, Pepsi,Frito-Lay, McDonalds, Shaklee International, GTE, Six Flags, Borden, Texas Instruments, Mary Kay Cosmetics, Shell Oil and many more.
Crywolf Productions produced and recorded audio content for NBC, Universal Studios, Amblin Entertainment, Hit Entertainment (Barney the Dinosaur), Chuck E. Cheese, TNT, The Discovery Channel, Walt Disney Television and others.
Currently, Wolf produces Smallbiz America, a national syndicated radio feature and website venue [www.smallbizamerica.com] that spotlights small business people and the many experts that help them. He lives in New Mexico with wife, Phyllis, and 2 sons, Dylan and Myles.
David's music equipment with they're Instrumental samples that helped created his music style sounds very different when you compare it to Bob Singleton & Joe Phillips and they're music styles. Unfortunately, David's music career didn't last very long. After finishing his work on Round and Round We Go, he began his second career on the World Wide Web, building a website called Small Biz America (Later changed and renamed to Audivita) and doing podcasts.
New England Digital Synclavier (Synclavier 9600)

[

edit

|

edit source

]
Bass Clarinet - Forte (looped)
Bassoon - looped
Clarinet - looped
Classical' Piccolo Trumpet: Sustained forte
Pop' Piccolo Trumpet: Sustained forte
Pop' Bf Trumpet: Sustained Cup Mute piano
Pop' Bf Trumpet: Sustained Harmon Mute piano
French Horn: Sustained forte
Celeste, single stroke
Contrabassoon sustained, chromatic
Glockenspiel, Hard mallet
005 Acoustic Gtr
031 Wind Chimes
01 Fantasia
45 Flutish Brass
86 Bottle Blower
Roland SN-U110-02 Latin & F.X. Percussions

[

edit

|

edit source

]
Roland SN-U110-06 Orchestral Winds

[

edit

|

edit source

]
Roland L-CDA-702 Orchestral Family Vol.2 (CD-ROM)

[

edit

|

edit source

]
BRS: Solo T. Bone -> BRS: Solo Tb mute: BRS: Tbn Wah 1a
001 Acoustic Piano
010 Dyno E Piano

This list is incomplete, you can help by expanding it. Every Sample found from these sources are both correct or random Most of these Sources to every keyboard sampler rack and synthesizer used by David has not been founded yet.
https://docs.google.com/spreadsheets/d/19vfH6X3uloT31F0HsbB9Yq8Pfh3EGM1pf46Xyz6amRY/edit?usp=sharing
Community content is available under
CC-BY-SA
unless otherwise noted.