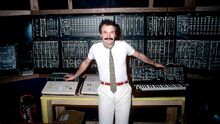 (1940-) Musician, producer and electronica pioneer. Born in Italy, Moroder as a young man toured extensively with bands throughout Europe, as he worked on writing his own songs. In 1972, he wrote a song called "Son of My Father" which feature a modular Moog, an early use of a synth in pop music. His song was covered by another band in Great Britian and became a #1 hit, while Moroder's own version received some airplay in the USA. At about this time, Moroder located himself in Munich and opened a studio, Musicland Studios, which quickly became successful in the rapidly growing music scene in West Germany.
Moroder formed a partnership with lyricist Pete Bellotte and singer Donna Summer. They began producing records for Summer in the then-new disco style, and quickly became successful. These songs did not use any electronic instruments, being in the style of 1970s disco which mostly employed bass, drums and a string section, and during this period Moroder did little with synths. However, in 1977, Moroder decided to break this pattern, substituting a sequencer-driven Minimoog bass line and a drum machine for the traditional bass and drums in Summer's "I Feel Love", and resulting a dramatically futuristic sound that set it apart from other disco music of the era. This song is now considered to be one of the first proto-electronica efforts.
Artists who wanted to incorporate synths into their music sought Moroder out, and he took on the role of producing electronic tracks for a variety of artists, as well as releasing an album of electronic music of his own, E=MC2 (after Einstein's famous mathematical formula for special relativity). He also began producing movie soundtracks, winning an Oscar for his score for Midnight Express. For the movie Top Gun, he produced the band Berlin's hit "Take My Breath Away", with its Minimoog bass line employing a patch with a highly resonant filter.
Starting in 1984, Moroder's interests began to turn elsewhere. He produced a restoration of the classic Fritz Lang silent film Metropolis, and moved into film and video production. After 1992, he did little with music for the next two decades, until he was invited to do a collaboration with Daft Punk in 2013. Since then, he has done several new electronica productions including the album Deja Vu, in which he collaborated with a number of pop singers including Brittny Spears and Kylie Minogue. He has also tried his hand at DJ'ing.
Moroder has won a total of three Oscars for his movie soundtrack work.
Community content is available under
CC-BY-SA
unless otherwise noted.