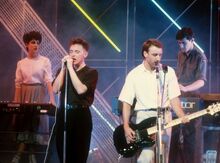 Proto-electronica band, most active in the decade of the 1980s, who were a significant influence on electronic dance music. New Order formed from the wreckage of a punk band called Joy Division, which consisted of singer Ian Curtis, guitarist Bernard Sumner, bassist Peter Hook, and drummer Stephan Morris. The band had started to venture into synth-based material when Curtis committed suicide in 1980.
The other three band members decided to take a new name, choosing New Order, and nominating Sumner as their lead singer. With that, they also decided to go much more in the electronic-music direction, and they added a full-time synth player to the band -- Morris' then-girlfriend (now wife) Gillian Gilbert. The new band's first album, Movement, consisted mainly of material that had been written prior to Curtis' death, and was not a significant change from their Joy Division style.
They changed that in 1983, with the release of the album Power, Corruption and Lies, and the 12" extended single "Blue Monday". This was the album that defined the New Order sound -- pulsing, four on the floor bass lines and synth leads, with Sumner's guitar largely taking a back seat. Hook developed a unique style of bass playing using short-scale basses and baritone guitars, often leaving room for sequenced synth parts to cover the actual bass. Although Gilbert was the nominal keyboardist, all four band members contributed to the electronic aspects of the band's sound, particular in sequencer and drum machine programming. "Blue Monday" was a canonical work, linking 1970s disco to the new sequenced electronic sound, and helped define the electronica genre.
The albums Low-Life and Brotherhood continued in this direction, containing dance-heavy music with occasional diversions in other directions, such as the 6/8 time and heavy pad sounds of "Elegia" (a portion of which was used in the film Pretty in Pink). The band followed this with a compilation album Substance containing the new track "True Faith", which became their biggest hit.
Unfortunately, at this point, dissension (and rumored drug use) began to take their toll. The band's next album, 1988's Technique, attempted to capture the sound of the emerging Ibiza club scene. But the quality was noticeably not up to their earlier material. The band decided to go on hiatus, doing various side projects. When they re-formed in 1993 to record Republic, they had moved on from their electronic dance sound to a more pop-oriented direction. Morris and Gilbert had children by this time, and Gilbert chose to quit touring. Several membership changes occurred after this point.
In 2009, Hook announced the permanent breakup of the band, which came as a surprise to Sumner and Morris. Hook has since taken legal steps to stop Sumner and Morris from using the New Order name.
Community content is available under
CC-BY-SA
unless otherwise noted.