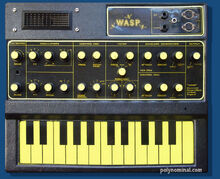 An analog monophonic synth produced by the British outfit Electronic Dream Plant. The synth's architecture consisted of two digitally controlled oscillators, rather than conventional VCOs, a multimode VCF, a VCA, an LFO, and two envelope generators. The synth was packaged with an appropriate yellow-and-black panel color scheme, and to keep costs down, a molded plastic case and two-octave membrane keyboard were used -- rather unfortunate choices for an otherwise good synth. The synth was capable of being battery powered and contained its own speaker, leading to its being adopted by London buskers of the era.
Chris Huggins, the designer of the Wasp, was experimenting with digital technology at the time, and the Wasp was one of the first synths to incorporate two notable digital features. The first was the aforementioned DCOs; the second was a pre-MIDI proprietary communications link that allowed several Wasps to be controlled from one, or from a master keyboard known as the Caterpillar. EDP also sold a digital sequencer called the Spider, with 252-note memory, which controlled several Wasps via the communications bus. A handful of a model called the Hornet, basically two Wasps in one box, are known to have been produced.
The Wasp was produced from 1978 to 1982, when EDP folded. Several variants were produced. A Wasp Deluxe model contained the same electronics, but replaced an unreliable keyboard with a conventional three-octave keyboard. A single-DCO version was produced, called the Gnat. A Wasp Special model replaced the cheap plastic case with a sturdy wooden case and metal panel, but oddly retained the membrane keyboard. Despite the quirks, the Wasp was highly regarded for its features and sound, and many were carefully preserved by their owners and remain in good shape today. Several companies have produced clones, for instance, the Elby Designs Pixie.